Sinn Fein Delegation
Visit to the United States

 

 
Letter to Irish-America from
Sinn Fein President Gerry Adams
13 August 1997
PEACE · JUSTICE · UNITY
---
A great change is at hand, and our task, our obligation, is to make that revolution, that change, peaceful and constructive for all. Those who do nothing are inviting shame as well as violence. Those who act boldly are recognizing right as well as reality.
John F. Kennedy, 1963
---
A chara,
Irish republicans want peace. We want an end to conflict; an end to division; to poverty and inequality. We want an Ireland free and independent.
British policy has created the climate for conflict and has prevented progress towards a peace settlement. It has fostered discrimination, inequality and intolerance. A lasting peace requires an end to all that.
Negotiations, to which all of the parties have been invited, commence on September 15th. Sinn Fein will be there:
Insisting on a united Ireland - free of British control;
Calling for equality and justice;
Demanding a demilitarisation of the situation, including the release of all political prisoners.
Irish America has played a critical role in the search for a lasting peace with justice in Ireland. We thank you for your support and ask you now to rally behind our Sinn Fein negotiating team.
On September 2 our Chief Negotiator, Martin McGuinness, MP; Caoimhghin O Caolain, TD and myself travel to the United States.
In Washington, New York, San Francisco and Chicago we will enlist support for the Sinn Fein platform at the peace talks.
Unfortunately due to time constraints and the impending negotiations we will be unable to visit all areas. We hope you will attend one of the events listed. If you are unable to attend, your generous contribution will be most appreciated.
WE NEED IRISH AMERICA TO RISE TO THE DEMAND FOR:
PEACE, JUSTICE, UNITY
Is mise le meas,

Gerry Adams, MP
President, Sinn Fein
---
Everyone, republican or otherwise has their own particular part to play. No part is too great or too small, no one is too old or too young to do something.
Bobby Sands MP, 1981
RECEPTION FOR
SINN FEIN DELEGATION
Tuesday
2 September 1997
Washington DC - 6:30pm
Gerry Adams, Martin McGuinness, Caoimhghin O Caolain
Phoenix Park Hotel
520 N. Capitol St. N.W.
Features open bar, appetizers and entertainment.
Suggested donation: $20 - You may pay at the door
RSVP to the IAUC (800) 947-4282.
Hosted by Irish-American Associations of Washington
---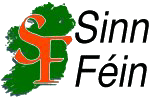 FRIENDS OF SINN FEIN
INVITES YOU TO JOIN US
AT THESE NATIONAL EVENTS HOSTED BY IRISH AMERICA
Thursday
4 September 1997
New York - 6:00pm
Gerry Adams, Martin McGuinness, Caoimhghin O Caolain
Waldorf Astoria
New York, NY
Donation: $500.00
Contact: Sean Downes (212) 587-3300
Friday
5 September 1997
New York - 7:00pm
Gerry Adams, Martin McGuinness, Caoimhghin O Caolain
Roseland Ballroom
239 West 52nd Street
New York, NY
Donation: $10.00 - Tickets may be purchased at the door.
Saturday
6 September 1997
San Francisco - 8:00pm
Martin McGuinness
The Russian Centre
2460 Sutter Street
San Francisco, CA
Donation: $20.00 - Tickets may be purchased at the door.
Chicago - 7:00pm
Caoimhghin O Caolain
Local 134
International Brotherhood of Electrical Workers Hall
600 West Washington Street
Chicago, IL 60606
Donation: $20.00 - Tickets may be purchased at the door.
At 9:00pm after the initial rally, Mr. O Caolain will do an Irish language presentation at the same location.