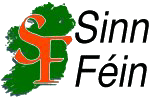 13 February 1996
---
Permanent peace depends upun a negotiated settlement
In an article contributed to the London Guardian, Gerry Adams accuses the British government of criminally neglecting the peace process. Gerry Adams is President of Sinn Féin.
---
``If the focus remains on the past, the past will become the future and that is something that no one can desire.''
IN THAT one small sentence, Senator George Mitchell and his colleagues in their international report last month captured the heartfelt aspiration of the people of Ireland for a lasting peace. A peace process, any peace process, if it is to be meaningful and enduring, must tackle the issues at the heart of a conflict. Success, a permanent peace, depends upon a negotiated settlement firmly rooted in democracy and self-determination.

For nearly a year-and-a-half, the guns of war in Ireland were silenced. For several years in advance of that, myself, the SDLP leader John Hume, the former Irish Taoiseach Albert Reynolds and Irish -America painstakingly put together a package which persuaded the IRA to call a complete cessation of military operations on the basis that it would lead to an inclusive process of negotiations. Regrettably, both British government and unionist intransigence, and their refusal to engage imaginatively or flexibly with the peace process, prevented the urgent and necessary consolidation of that process.

On Friday night last, the IRA ended its 18-month-long cessation. The announcement was greeted universally with disappointment and regret. At this time my thoughts are with the families of those killed and injured in the London explosion. I understand the pain they are going through. I speak from the personal experience of losing many relatives, friends and colleagues in 25 years of conflict. It may be difficult for some people to absorb this after what happened on Friday night, but the reality is that the IRA was undefeated when 18 months ago it took a very courageous decision to create what was universally recognised to be the greatest opportunity since partition to resolve the conflict and secure a lasting peace settlement. But the British government and the unionists erected one obstacle after another to frustrate every attempt to sit down around the negotiating table.

Inclusive negotiations, without preconditions or vetos, is the key to advancing the peace process to a peace settlement. This was the commitment given by the two governments, publicly and repeatedly in the run-up to the IRA cessation. This was the context in which the IRA in August 1994 made their historic announcement. Since that time there has not been one word of real negotiations. Nor is there even the prospect of negotiations beginning.

For 18 months Sinn Fein and others have been standing at the negotiating table waiting for the British government and the unionists to sit down with the rest of us to agree a new and peaceful future. The cumulative evidence points damningly to a British-government strategy locked into a psychology of war; a mindset which demands victory over republicans rather than agreement and compromise. We have witnessed bad faith and dishonesty, new preconditions, stalling, negativity and provocation. British bad faith and dishonesty which confounded those who believed that the British would approach the peace process positively; bad faith and dishonesty which was so barefaced that it surprised even those of us with a healthy cynicism about British intentions.

We watched as Private Lee Clegg was released and then promoted, as David Trimble marched through the nationalist community in Garvaghy Road, as Irish prisoners were mis-treated in English jails, as plastic bullets were fired at peaceful demonstrators, as RUC raids wrecked nationalist homes. We pointed out, with growing desperation, that there could be no negotiated peace without peace negotiations. That without peace talks there was no peace process.

Yet Sinn Fein maintained its positive approach to the peace process. Last November, the two governments established the twin-track approach. The Irish Taoiseach, John Bruton, described it as the means to remove preconditions to all-party talks. But when Senator George Mitchell's international body issued its report, the British government dumped it, reneging again on its commitment to begin all-party talks.

When the IRA announced its complete cessation of military operations, it presented everyone, but particularly the two governments, with a unique and unprecedented opportunity. The hope and expectation was most effectively summed up by Seamus Heaney, when he described the new situation as a ``space in which hope can grow''.

Our goal was to deepen that hope, to nourish it and to build a new beginning for all of the Irish people, and to open a new chapter in the relationship between the Irish and British people. Regrettably that hope was dashed on the rock of John Major's self-interest and the need for unionist votes at Westminster. While the IRA must bear the responsibility for its actions in London, the British government must bear its total responsibility for the collapse of the peace process. It has been guilty of criminal neglect.

One thing is clear: it is not possible to have peace in Ireland unless the British government is committed to that objective.

Clearly, the question now must be what happens next? In any conflict, there are two ways of bringing it to an end. Either one side defeats the other, seeks a surrender of the other, or we somehow find a way to rebuild the peace process and work for and secure a negotiated peace settlement.

Sinn Fein has repeatedly pointed out, with others, that the peace process could not stand still. If it was not moving forward it was always in grave danger of moving back. That has now happened.

But despite the tragic break-down of the IRA cessation, Sinn Fein's peace strategy remains as the main function of our party. Our efforts to build an effective peace process must be redoubled.

What is clearly needed is a negotiated peace settlement. We needed that before Friday night's events; we need it more than ever now. How do we achieve that goal? In his submission to the Forum for Peace and Reconciliation in Dublin just before Christmas, FW De Klerk recommended that a peace process should be played like a one-day, and not a three-day, game of cricket. In other words, it is crucial that people sit down around the table and treat each other as human beings.

Peace in Ireland can only be achieved through honest dialogue and democratic negotiations based on equality. This is not a military problem. It is a political problem which was militarised by the British. It needs a political solution; that can only be achieved by dialogue.

This is not a time for knee-jerk reactions or for slamming the door on dialogue. That will only aggravate the situation. People in Ireland and Britain want above all to see their governments and political representatives move positively and decisively to engage in dialogue to resolve our difficulties.

For Sinn Fein's part, we are firmly committed to democratic and peaceful means of resolving political issues and to the objective of an equitable and lasting agreement that can commend the consent and allegiance of all the people on the island of Ireland.

Sinn Fein also remains committed to the total disarmament of all armed groups and to the removal, forever, of all guns, republican, loyalist and British, from the political equation in Ireland. Sinn Fein's commitment to our peace strategy and to a lasting peace based on democratic negotiations remains absolute.
---
Sinn Fein Press Office, 44 Parnell Square, Dublin 1
Tel: +353-1-8726100 and +353-1-8726839   ·   Fax +353-1-8733074
E-mail: sinnfein@irlnet.com   ·   Website: http://www.sinnfein.org

Released in the US by:

Friends of Sinn Fein, 510 C Street, NE, Washington DC 20002
Tel: +1-202-547-8883   ·   Fax +1-202-547-7889
E-mail: eirefree@aol.com   ·   Website: http://www.sinnfein.org
---
Sinn Fein   ·   Sinn Fein Documents
---
Web publication by rm@serve.com
Web archival by iig@www.utexas.edu