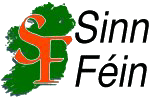 7 April 1996
---
Easter Commemoration, Dublin
Extract from the speech delivered by Sinn Fein Chairperson, Councillor Mitchel McLaughlin to the Dublin Easter Commemoration., Sunday 7th April 1996
If a Peace Process is to be rebuilt there will have to be explicit guarantees from the British Government, that this time the negotiations will be called immediately, that they will be open to all parties without pre-conditions, and that there will be no collusion with the Unionists parties or political veto's of any kind. Furthermore, given the experience of the past 18 months of time wasting by the Unionists and the British Government, this time Republicans are resolved that there must be a pre-determined time-frame for the negotiations, so as to inject the necessary dynamic into the process.
It would not be before time if John Bruton and his collegues in the Irish Government accepted that they too had a responsibility for the loss of confidence and the eventual breakdown in the Peace Process. Why on earth have they withdrawn from the crucial function of ensuring that nationalist and rep,~ublican concerns about the proposed electoral process were forcibly represented and responded to? Even the most apolitical opinion knows that John Major and his government are clueless and have hopelessly lost their way!
An electoral process to underwrite and validate any agreement arising from negotiations - - - Yes, no problem. But these election proposals from David Trimble and John Major have nothing to do with the search for a just and lasting peace and surely John Bruton can recognise that reality?
Sinn Fein will oppose tooth and nail any attempt to bring forward an internal solution. We demand inclusive negotiations - now! We accept no preconditions, no return to Stormont rule. No Assembly, no Convention, no Forum.
We reject as anti-democratic the very idea that the British Government should prescribe which parties can contest elections in Ireland and which cannot. Of the fifteen parties specified by Paddy Mayhew last week, only two are nationalist and one of them is to be barred from negotiations anyway. That' s British democracy for you, especially since the British Government is the only party to the exercise which does not and which will not have a mandate from the people in Ireland.
I suppose that the only good thing about recent efforts at the mis-named `consultations' and the so-called `hybrid elections' is that the British are making an even better job than we ever could of exposing the reality of British rule in Ireland for the mockery of democracy that it is!
Must we assume that the Irish government are going to acquiese with this foolishness? Who in their right mind, could ever believe that it would be possible to rebuild confidence in the Peace Process on this basis?
For our part, Sinn Fein has been available and remains willing to play it's legitmate role. All we needed was a level playing field, but we didn't get it. Not yet! We call once again, on the Government in Dublin to ensure that the British honour both the spirit and the substance of the commitments given''
Commenting on the prospects for inclusive negotiations, Councillor McLaughlin said;
``Agreement on political structures is the most difficult challenge facing the political representatives in Ireland today, especially after our experience of partitionist political structures. Simple majoritarianism has never, and will never work. For all of us on this island, whether in political transition, or in final agreement on how we are to be governed in the future, our roles in society will be based on the democratic principle of Self determination exercised by agreement and without external impediment.''
---
Sinn Fein Press Office, 44 Parnell Square, Dublin 1
Tel: +353-1-8726100 and +353-1-8726839   ·   Fax +353-1-8733074
E-mail: sinnfein@irlnet.com   ·   Website: http://www.sinnfein.org

Released in the US by:

Friends of Sinn Fein, 510 C Street, NE, Washington DC 20002
Tel: +1-202-547-8883   ·   Fax +1-202-547-7889
E-mail: fosf@nicom.com   ·   Website: http://www.sinnfein.org
---
Sinn Fein   ·   Sinn Fein Documents
---
Web publication by rm@serve.com
Web archival by iig@www.utexas.edu