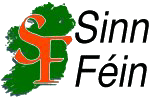 8th April 1996
---
Blame lies with Major
Sinn Fein Vice President Pat Doherty responding to comments by Irish Taoiseach John Bruton last night pointed out that ``Sinn Fein played a central role along with others in creating the conditions which led to the IRA cessation in 1994. That cessation lasted a full year and a half. That opportunity should have been used constructively and energetically to build a process of inclusive negotiations, based on democratic principles, which could effectively tackle and resolve the issues at the heart of the conflict.''
Mr. Doherty said:
``Everyone acknowledges that negotiation is the only way forward but in that eighteen months there was not one word of real negotiation spoken. That was the fundamental failure which led to the collapse of the peace process. The blame for this lies squarely at the door of John Major.
``If the peace process is to be rebuilt it is the British government which must accept that the route to substantive negotiations must be direct and unencumbered and that all pre-conditions must be removed.
``Both the Irish and British governments committed themselves in their Joint Communique to reassure parties that what is on offer is a meaningful and inclusive process of negotiations which will address their legitimate concerns about new political arrangements.
``Let the British government provide Sinn Fein and our electorate with clear, specific and unambiguous assurances that these negotiations will be inclusive, with no item on the agenda allowed to become an insurmountable obstacle to progress and all negotiations to be conducted with an agreed timeframe.
``None of those engaged in the negotiating process can have a veto. And, there can be no attempt to predetermine the outcome, nor to preclude any outcome, to the negotiations.
``In short we require a new approach by the British government which is positive and in good faith, an approach which enables, facilitates and encourages agreement among all the Irish people.
``For its part the Irish government, in consultation with others, similarly seeking a democratic resolution, needs to develop a coherent and effective approach to bring this about and to guarantee that a meaningful process of negotiations begins without further delays or the erection of obstacles.''
---
Sinn Fein Press Office, 44 Parnell Square, Dublin 1
Tel: +353-1-8726100 and +353-1-8726839   ·   Fax +353-1-8733074
E-mail: sinnfein@irlnet.com   ·   Website: http://www.sinnfein.org

Released in the US by:

Friends of Sinn Fein, 510 C Street, NE, Washington DC 20002
Tel: +1-202-547-8883   ·   Fax +1-202-547-7889
E-mail: fosf@nicom.com   ·   Website: http://www.sinnfein.org
---
Sinn Fein   ·   Sinn Fein Documents
---
Web publication by rm@serve.com
Web archival by iig@www.utexas.edu