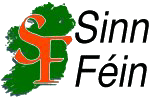 10 April 1996
---
Sinn Fein address INTO fringe meeting
Speaking to a fringe meeting at the INTO annual conference in Belfast's Europa Hotel this evening, Sinn Fein Ard Chomhairle member Jim Gibney said:
``The British government's mishandling of the peace process has created a deep sense of despair amongst the leaders of nationalist opinion throughout Ireland. the British government have effectively suppressed the momentum towards a comprehensive negotiated settlement and replaced this fundamental requirement with the prospect of an election dog-fight.
``The election and the date set for talks on the 10th June are diversions away from the need to rebuild a credible peace process. They are not a serious attempt by the British government to advance the situation; they are in fact undermining the declared objectives.
``The electorate aren't interested in an election because they do not see it as contributing to the search for a peaceful accord amongst the people of Ireland; it is a waste of time, effort and finance.
``The 10th June talks are a charade because the British government are excluding Sinn Fein despite the fact that they know there cannot be a negotiated settlement without republicans.
``The only election the British government should be considering is a Westminster election; until a new administration is in place, which does not depend on the votes of the unionists there is little prospect of breaking out of the current impasse.''
---
Sinn Fein Press Office, 44 Parnell Square, Dublin 1
Tel: +353-1-8726100 and +353-1-8726839   ·   Fax +353-1-8733074
E-mail: sinnfein@irlnet.com   ·   Website: http://www.sinnfein.org

Released in the US by:

Friends of Sinn Fein, 510 C Street, NE, Washington DC 20002
Tel: +1-202-547-8883   ·   Fax +1-202-547-7889
E-mail: fosf@nicom.com   ·   Website: http://www.sinnfein.org
---
Sinn Fein   ·   Sinn Fein Documents
---
Web publication by rm@serve.com
Web archival by iig@www.utexas.edu