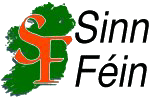 10 April 1996
---
TDs and Senators support for Kelly welcome
Saoirse spokesperson Bernie Farrell has welcomed today's demonstration of support by politicians from all parties in Leinster House for gravely ill republican prisoner Pat Kelly.
``I understand that 170 TDs and Senators have so far signed the petition which is to be handed in to the British Embassy in Dublin this afternoon calling for Pat Kelly's transfer to Portlaoise Priosn, `` said Saoirse spokesperson Bernie Farrell.
``This demonstrates the widespread and unanimous support which exists among our politicians and the public at large to see Pat Kelly moved nearer his family and to ensure that he receives adequate medial treatment. It is to their great shame that the British government has so far chosen to ignore these humanitarian calls.
``What hope can there be for the peace process if the British government continues to refuse to show compassion or humanity to a man who it critically ill with cancer?
``Indeed, we are still waiting for the British to authorise the transfer of any prisoner under the terms of the European Convention. All the republican prisoners in England have applied to be moved to Ireland to serve their time nearer their families.
``We will continue to campaign for the transfer home of all republican prisoners pending their release.''
---
Sinn Fein Press Office, 44 Parnell Square, Dublin 1
Tel: +353-1-8726100 and +353-1-8726839   ·   Fax +353-1-8733074
E-mail: sinnfein@irlnet.com   ·   Website: http://www.sinnfein.org

Released in the US by:

Friends of Sinn Fein, 510 C Street, NE, Washington DC 20002
Tel: +1-202-547-8883   ·   Fax +1-202-547-7889
E-mail: fosf@nicom.com   ·   Website: http://www.sinnfein.org
---
Sinn Fein   ·   Sinn Fein Documents
---
Web publication by rm@serve.com
Web archival by iig@www.utexas.edu