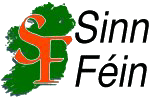 16 April 1996
---
Sinn Fein responds to British proposals
Sinn Fein President Gerry Adams commenting on the election legislation published today by the British government said:
``Sinn Fein will want to study today's proposals fully before giving a detailed response.
``Nationalists and Republicans have justifiable concerns about the way in which the British government is handling this situation and there is doubt that the British government is committed to real and substantial negotiations.
``If the talks scheduled to begin on June 10th are to achieve a democratic peace settlement they must resolve the causes of conflict by bringing about substantive and significant change on constitutional and political matters: demilitarisation and democratic rights.
``Sinn Fein rejects absolutely any preconditions on our entry into all-party talks.
``All issues must be on the agenda, there should be a fixed time-frame for negotiations and it should contain no actual or potential stalls.
``This is the context in which Sinn Fein will judge today's proposals.''
---
Sinn Fein Press Office, 44 Parnell Square, Dublin 1
Tel: +353-1-8726100 and +353-1-8726839   ·   Fax +353-1-8733074
E-mail: sinnfein@irlnet.com   ·   Website: http://www.sinnfein.org

Released in the US by:

Friends of Sinn Fein, 510 C Street, NE, Washington DC 20002
Tel: +1-202-547-8883   ·   Fax +1-202-547-7889
E-mail: fosf@nicom.com   ·   Website: http://www.sinnfein.org
---
Sinn Fein   ·   Sinn Fein Documents
---
Web publication by rm@serve.com
Web archival by iig@www.utexas.edu