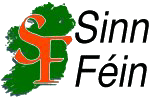 24 April 1996
---
SINN FÉIN PRESIDENT
RESPONDS TO SDLP DECISION
ON ELECTIONS AND FORUM
Sinn Fein President, Gerry Adams today said:
``Sinn Fein's attitude to the British and Unionist proposals for an election and a Stormont Forum has been a consistent one. It is our view that they have no useful role to play in rebuilding the peace process.
``Everyone knows that the most important issue for all the people of these islands is to build a democratic peace settlement. The British proposals hinder this.
``Despite our best efforts to get a common position I am not surprised that the SDLP will be contesting the election and Sinn Fein's attitude to this has also been consistent.
``Sinn Fein will also be contesting the election. We will be doing so to give leadership at this very crucial time, to seek a re-endorsement of our peace strategy and to return a strong republican and nationalist voice, which makes it clear that there is no going back to unionist domination. There is widespread support for real talks, and a negotiated settlement. Sinn Fein will be seeking support for our analysis and to ensure that the legitimate demand for an end to British rule, for equality, and for the release of the prisoners will be on the agenda.
``Mr. McGrady says that the SDLP will participate in the Stormont Forum. It is up to him to explain what has happened since last week when he said the Forum should be scrapped. I have not had the opportunity to study his remarks but they appear to me to be inconsistent and confused at a time when there is a need to send a clear message to the British government and the unionists.''
---
Sinn Fein Press Office, 44 Parnell Square, Dublin 1
Tel: +353-1-8726100 and +353-1-8726839   ·   Fax +353-1-8733074
E-mail: sinnfein@irlnet.com   ·   Website: http://www.sinnfein.org

Released in the US by:

Friends of Sinn Fein, 510 C Street, NE, Washington DC 20002
Tel: +1-202-547-8883   ·   Fax +1-202-547-7889
E-mail: fosf@nicom.com   ·   Website: http://www.sinnfein.org
---
Sinn Fein   ·   Sinn Fein Documents
---
Web publication by rm@serve.com
Web archival by iig@www.utexas.edu