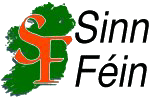 1 May 1996
---
Fifteenth Anniversary Call for Support
Sinn Fein spokesperson on prison issues, Councillor Joe Austin, called today for public support for a march and rally commemorating the fifteenth anniversary of the 1981 hunger strike to be staged in Belfast on Sunday.
Comparing the situation of 1981 with that of the current stalled peace process, the Sinn Fein spokesperson said:
``People remember how the intransigence of the British government and their refusal to consider the demands of prisoners in 1981 led to the death of ten republicans and how that same intransigence has now squandered the most promising opportunity for peace this country has ever seen.
``In 1981 the British government were trying to cvriminalise prisoners and the republican struggle, they succeeded only in criminalising themselves before the world. Today the world has also watched while the chance of peace has been squandered by a British government clearly unable to shake out of the 1981 mindset.
``Whilst people with a genuine desire to work towards the establishment of a lasting peace in Ireland warned that movement towards the release of political prisoners was an essential ingredient to consolidating and advancing the peace process the British government chose to hide behind the argument defeated by the hunger strikers fifteen years ago, that there are no political prisoners in British jails. We can see clearly today just how far that appraoch has brought us.
``A large attendance on Sunday will serve the purpose of drawing British government attention to the fact that not only have people had enough of their stalling and hiding over the peace process but that they have not forgotten how the same tactic killed ten prisoners in the H-Blocks.'' ENDS
---
Sinn Fein Press Office, 44 Parnell Square, Dublin 1
Tel: +353-1-8726100 and +353-1-8726839   ·   Fax +353-1-8733074
E-mail: sinnfein@irlnet.com   ·   Website: http://www.sinnfein.org

Released in the US by:

Friends of Sinn Fein, 510 C Street, NE, Washington DC 20002
Tel: +1-202-547-8883   ·   Fax +1-202-547-7889
E-mail: fosf@nicom.com   ·   Website: http://www.sinnfein.org
---
Sinn Fein   ·   Sinn Fein Documents
---
Web publication by rm@serve.com
Web archival by iig@www.utexas.edu