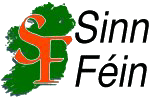 2 May 1996
---
Onus rests with British
Sinn Fein Chairperson Mitchel McLaughlin speaking in Belfast this morning at a meeting of the Party's Six County electoral strategy group said:
``The onus on restoring the peace process rests firmly on the shoulders of John Major. It was British bad faith and pursuit of a narrow pro-unionist agenda which collapsed the peace process.
``It is clear that there is widespread distrust among nationalists of British intentions. Given the British governments record it is understandable that many people are concerned about the nature and potential of the talks scheduled to begin on June 10th. This is deepened by indications that pre-conditions are already being put in place to inhibit or prevent progress.
``What is required from the British government are explicit assurances that the process of negotiations envisaged for June 10th will be real. Such a process must ensure that everything is on the table for discussion; there must be no actual or potential stalling devises; no outcome should be pre-determined or excluded; nothing should be agreed until everything is agreed and a realistic time-frame is needed to ensure a dynamic within the negotiations.
``Sinn Fein is committed to our peace strategy and to reconstructing the peace process. It is obviously a difficult task and it requires the active participation of both governments and all of the parties. But the British government has the primary responsibility at this time.
``If John Major is serious and genuine about a restoration of the peace process then he must spell out in unambiguous language his attitude. I look forward to a clear response from the British Prime Minister.''
---
Sinn Fein Press Office, 44 Parnell Square, Dublin 1
Tel: +353-1-8726100 and +353-1-8726839   ·   Fax +353-1-8733074
E-mail: sinnfein@irlnet.com   ·   Website: http://www.sinnfein.org

Released in the US by:

Friends of Sinn Fein, 510 C Street, NE, Washington DC 20002
Tel: +1-202-547-8883   ·   Fax +1-202-547-7889
E-mail: fosf@nicom.com   ·   Website: http://www.sinnfein.org
---
Sinn Fein   ·   Sinn Fein Documents
---
Web publication by rm@serve.com
Web archival by iig@www.utexas.edu