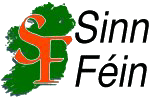 8 May 1996
---
RUC harassment of Sinn Fein election workers
Sinn Fein Chairperson Mitchel McLaughlin has described the RUC's harassment and arrest of nationalists in Derry over the past week as an indication of this paramilitary force's intention to disrupt and impede the election campaign of Sinn Fein.
Mr. McLaughlin said:
``Last night in Lower Creggan Sinn Fein election workers were harassed by an RUC mobile patrol which followed and filmed them as they canvassed the area.
``This morning a number of nationalists from the Bogside and Creggan area have been arrested and taken to Castlereagh Interrogation Centre. This follows on from last week when three people were also taken to Castlereagh and detained for two days before being released without charge.
``The RUC has clearly begun a campaign of intimidation against nationalists and republicans which it hopes will dissuade the community from involving itself in this election campaign.
``Sinn Fein will not allow the RUC to deflect our party from defending our democratic mandate.''
---
Sinn Fein Press Office, 44 Parnell Square, Dublin 1
Tel: +353-1-8726100 and +353-1-8726839   ·   Fax +353-1-8733074
E-mail: sinnfein@irlnet.com   ·   Website: http://www.sinnfein.org

Released in the US by:

Friends of Sinn Fein, 510 C Street, NE, Washington DC 20002
Tel: +1-202-547-8883   ·   Fax +1-202-547-7889
E-mail: fosf@nicom.com   ·   Website: http://www.sinnfein.org
---
Sinn Fein   ·   Sinn Fein Documents
---
Web publication by rm@serve.com
Web archival by iig@www.utexas.edu