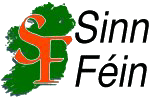 9 May 1996
---
British stand on Kelly Vindictive - Adams
Sinn Fein President Gerry Adams commenting on the continuing refusal of the British government to release Paddy Kelly to Portlaoise has described Michael Howard's stand as a ``vindictive act of inhumanity''. He called on Michael Howard to immediately release Paddy Kelly
Mr. Adams said:
``The ongoing refusal by the British Home Office Minister Michael Howard to transfer Paddy Kelly, who is suffering from a life threatening illness, stands as a stark reminder of the British government's punitive prisons policy which is aimed at both republican prisoners, their families and the wider nationalist community.
``The petition recently handed in to the British Embassy in Dublin, and signed by almost 200 TD's and Senators, calling for movement from the British government on the Paddy Kelly case on compassionate grounds comes on the back of many recent public demonstrations of support for his release.
``Continuing to deny this simple humanitarian request is clearly a calculated vindictive act of punishment. It is inexcusable.
``Sadly however it represents no more than we have come to expect from the British in their treatment of Irish political prisoners.
``The continuing deterioration of Paddy Kelly's condition is a matter of great concern. What his family are now enduring is reminiscent of the same tortuous agony endured by the families of the hunger strikers and the family of Paul Kinsella who died in prison approximately eighteen months ago.
---
Sinn Fein Press Office, 44 Parnell Square, Dublin 1
Tel: +353-1-8726100 and +353-1-8726839   ·   Fax +353-1-8733074
E-mail: sinnfein@irlnet.com   ·   Website: http://www.sinnfein.org

Released in the US by:

Friends of Sinn Fein, 510 C Street, NE, Washington DC 20002
Tel: +1-202-547-8883   ·   Fax +1-202-547-7889
E-mail: fosf@nicom.com   ·   Website: http://www.sinnfein.org
---
Sinn Fein   ·   Sinn Fein Documents
---
Web publication by rm@serve.com
Web archival by iig@www.utexas.edu