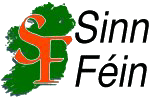 22 May 1996
---
Urgency and Focus needed
Sinn Fein Ard Chomhairle representative Martin McGuinness speaking today shortly before the meeting between Mr. Spring and Mr. Mayhew urged both governments to ``apply greater urgency and focus to their efforts to resolve the outstanding differences over June 10th.''
Mr. McGuinness said:
``At this critical time the two governments, and particularly, given its record, the British government, have to demonstrate leadership and urgency and there must be clarity.
``All the parties need to know what is going to happen on June 10th. Last November in a joint communique the two governments announced their intention to commence all-party talks. Six months later and they still have not agreed an agenda.
``A decommissioning conference will not restore the peace process. What is required are real and meaningful negotiations.
``London and Dublin must apply greater urgency and focus to their efforts to resolve the outstanding differences over June 10th.''
---
Sinn Fein Press Office, 44 Parnell Square, Dublin 1
Tel: +353-1-8726100 and +353-1-8726839   ·   Fax +353-1-8733074
E-mail: sinnfein@irlnet.com   ·   Website: http://www.sinnfein.org

Released in the US by:

Friends of Sinn Fein, 510 C Street, NE, Washington DC 20002
Tel: +1-202-547-8883   ·   Fax +1-202-547-7889
E-mail: fosf@nicom.com   ·   Website: http://www.sinnfein.org
---
Sinn Fein   ·   Sinn Fein Documents
---
Web publication by rm@serve.com
Web archival by iig@www.utexas.edu