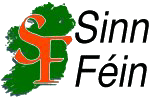 28 May 1996
---
Eve of Poll message
Sinn Fein President Gerry Adams in his eve of poll message said:
``Thursday's election is crucial - crucial for the development of the peace process and for the achievement of a just and lasting peace settlement in Ireland.
``Sinn Fein has played a central role in the development of the Irish peace process and creating the opportunity for peace which still exists.
``Inclusive peace negotiations are the only means to a lasting peace settlement.
``Make your vote count; make it an effective vote for peace. Send a clear message to John Major and the Unionist leaderships that it is time for real change; it is time for a real process of negotiation, it is time to rebuild the peace process. On Thursday vote Sinn Fein X.''
---
Sinn Fein Press Office, 44 Parnell Square, Dublin 1
Tel: +353-1-8726100 and +353-1-8726839   ·   Fax +353-1-8733074
E-mail: sinnfein@irlnet.com   ·   Website: http://www.sinnfein.org

Released in the US by:

Friends of Sinn Fein, 510 C Street, NE, Washington DC 20002
Tel: +1-202-547-8883   ·   Fax +1-202-547-7889
E-mail: fosf@nicom.com   ·   Website: http://www.sinnfein.org
---
Sinn Fein   ·   Sinn Fein Documents
---
Web publication by rm@serve.com
Web archival by iig@www.utexas.edu