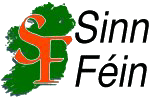 5 June 1996
---
Sinn Fein's exclusion makes a mockery of last week's elections
Responding to the refusal of Patrick Mayhew to send an invitation to Sinn Fein for Monday's talks at Stormont, Sinn Fein's Chairperson Mitchel McLaughlin described the party's exclusion as making a mockery of last week's elections and the democratic process.
Mr. McLaughlin said:
``The British government trumpeted the elections as a gateway to negotiations for all who contested them. Mr. Mayhew's refusal to include Sinn Fein among the talk's participants effectively disenfranchises the 116,000 people who voted for the democratic right of Sinn Fein to represent them at negotiations.
``The selective criteria used by the British government in its pursuance of democratic principles will be brutally exposed on Monday when 15% of the north's electorate are denied access to Stormont.
``No amount of posturing by Mr. Major and his government will disguise the fact that once again the British government has moved the goalposts in its determination to obstruct progress towards a negotiated and democratic settlement to the conflict.''
---
Sinn Fein Press Office, 44 Parnell Square, Dublin 1
Tel: +353-1-8726100 and +353-1-8726839   ·   Fax +353-1-8733074
E-mail: sinnfein@irlnet.com   ·   Website: http://www.sinnfein.org

Released in the US by:

Friends of Sinn Fein, 510 C Street, NE, Washington DC 20002
Tel: +1-202-547-8883   ·   Fax +1-202-547-7889
E-mail: fosf@nicom.com   ·   Website: http://www.sinnfein.org
---
Sinn Fein   ·   Sinn Fein Documents
---
Web publication by rm@serve.com
Web archival by iig@www.utexas.edu