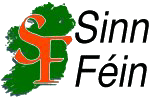 8 June 1996
---
The Sinn Fein Ard Chomhairle's response to this weeks British/Irish agreement
``Sinn Fein has played a pivotal role in the search for peace. We have come to each development positively and constructively and guided by our peace strategy.
``For some time this strategy has focused on the need for an international dimension to the search for a lasting peace in our country. We therefore welcome the appointment of Senator Mitchell and his colleagues.
``We also acknowledge the potentially positive nature of the procedural elements in the agreement. These could provide a useful framework to settle procedural and agenda matters in real all party talks.
``What the agreement cannot legislate for is the political will on the part of the British government to push ahead with the drive for a peace settlement. This lack of political will and the bar on Sinn Fein's participation in talks diminishes the potential for real and meaningful negotiations.
``The two governments can best demonstrate real political will by accepting and respecting the democratic outcome of last week's election. This would provide for inclusive talks involving all of the parties on the basis of equality. Monday's discussions could therefore be transformed.''
---
Sinn Fein Press Office, 44 Parnell Square, Dublin 1
Tel: +353-1-8726100 and +353-1-8726839   ·   Fax +353-1-8733074
E-mail: sinnfein@irlnet.com   ·   Website: http://www.sinnfein.org

Released in the US by:

Friends of Sinn Fein, 510 C Street, NE, Washington DC 20002
Tel: +1-202-547-8883   ·   Fax +1-202-547-7889
E-mail: fosf@nicom.com   ·   Website: http://www.sinnfein.org
---
Sinn Fein   ·   Sinn Fein Documents
---
Web publication by rm@serve.com
Web archival by iig@www.utexas.edu