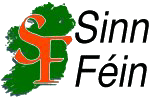 13 June 1996
---
Unionist forum opposed
Sinn Fein peace negotiator for West Belfast Dodie McGuinness commenting on tomorrow's inaugural meeting of the Unionist Forum said:
``Sinn Fein was opposed to the Unionist proposal of a six county assembly.
``The agenda of the Unionists in proposing this assembly was an obvious attempt to return to the days of unionist domination.
``That clearly will not happen and Sinn Fein will not be a part of any attempt to achieve that.
``We stood in the election on a clear platform of opposition to a new Stormont assembly and received a clear mandate for that stand. We will not be attending the Unionist Forum and we believe that it can play no useful role in the search for a lasting peace.
``The stated purpose of the elections on May 30th was to mandate the political parties for political negotiations. John Major said that once the elections were over the route to negotiations would be ``clear, direct and automatic''. Sinn Fein is barred from the negotiations. This is undemocratic and totally unacceptable.''
---
Sinn Fein Press Office, 44 Parnell Square, Dublin 1
Tel: +353-1-8726100 and +353-1-8726839   ·   Fax +353-1-8733074
E-mail: sinnfein@irlnet.com   ·   Website: http://www.sinnfein.org

Released in the US by:

Friends of Sinn Fein, 510 C Street, NE, Washington DC 20002
Tel: +1-202-547-8883   ·   Fax +1-202-547-7889
E-mail: fosf@nicom.com   ·   Website: http://www.sinnfein.org
---
Sinn Fein   ·   Sinn Fein Documents
---
Web publication by rm@serve.com
Web archival by iig@www.utexas.edu