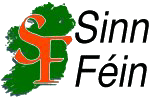 17 June 1996
---
Adams shocked and saddened by Manchester attack
Sinn Fein President Gerry Adams speaking in West Belfast this morning said:
``As I told you on Saturday, I was shocked and deeply saddened by the bomb attack in Manchester. I am relieved that no one was killed and my sympathy is with those who were injured.
``The thrust of the media coverage and of many of the political responses has been to heap all of the blame onto Sinn Fein. I want you to know that Sinn Fein and those we represent will not be scapegoated. Sinn Fein was not responsible in any way for Saturday's bomb. On the contrary our peace strategy, which has at times driven the peace process, is about ending all such incidents. John Major knows that.
``Yesterday I made it clear that Sinn Fein will not be deflected from the urgent task of creating the conditions for an inclusive peace settlement. We are determined to pursue this and neither will we allow our contribution to be undervalued or discarded. We have taken real risks for peace and we will continue to do so.
``I don't wish to minimise the difficulties involved either for the two governments or all of the parties, including ourselves. This bomb presents grave difficulties for everyone but all of us have a responsibility to ensure that nothing deflects the search for a lasting peace.
``We always knew that this process would be dangerous and risky. But one thing is absolutely clear, it is sheer folly to return to the old agenda of excluding Sinn Fein and seeking to isolate republicans. It will not work. It didn't work for over twenty years. What did work was the building of an inclusive dialogue even in the most difficult circumstances. Our own experience and the International experience provide clear evidence that this is the only way forward.
``This is a time for everyone committed to the objective of a lasting peace in Ireland to dig deep and focus, with even greater determination, on the need to restore the peace process.
``The opportunity which we created and which still exists must not be lost sight of in the welter of reaction to Saturdays bombing.''
---
Sinn Fein Press Office, 44 Parnell Square, Dublin 1
Tel: +353-1-8726100 and +353-1-8726839   ·   Fax +353-1-8733074
E-mail: sinnfein@irlnet.com   ·   Website: http://www.sinnfein.org

Released in the US by:

Friends of Sinn Fein, 510 C Street, NE, Washington DC 20002
Tel: +1-202-547-8883   ·   Fax +1-202-547-7889
E-mail: fosf@nicom.com   ·   Website: http://www.sinnfein.org
---
Sinn Fein   ·   Sinn Fein Documents
---
Web publication by rm@serve.com
Web archival by iig@www.utexas.edu