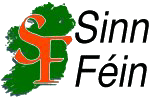 19 June 1996
---
More Communication, Not Less
Commenting on the continued exclusion of Sinn Fein from today's plenary session at Castle Buildings, Sinn Fein Chairperson Mitchel McLaughlin said:
``At a critical time in the search for a credible peace process to lead us out of conflict there is a need for more communication, not less. It is interesting to note that those who are shouting the loudest, about excluding Sinn Fein now, made little contribution to the efforts made by Sinn Fein and others to create the conditions which led to the IRA's cessation in August 1994.
``The continued exclusion of Sinn Fein from today's round of negotiations raises a question mark over the two government's commitment to inclusive talks as a basis for resolving this conflict.
``Sinn Fein received an increased mandate to represent their electorate yet their views are being ignored. It is totally unacceptable to urge parties to participate in an election and then when the outcome doesn't suit to change the rules.
``The time for talking at or about Sinn Fein is over, the two governments and the other parties should be talking with Sinn Fein.''
---
Sinn Fein Press Office, 44 Parnell Square, Dublin 1
Tel: +353-1-8726100 and +353-1-8726839   ·   Fax +353-1-8733074
E-mail: sinnfein@irlnet.com   ·   Website: http://www.sinnfein.org

Released in the US by:

Friends of Sinn Fein, 510 C Street, NE, Washington DC 20002
Tel: +1-202-547-8883   ·   Fax +1-202-547-7889
E-mail: fosf@nicom.com   ·   Website: http://www.sinnfein.org
---
Sinn Fein   ·   Sinn Fein Documents
---
Web publication by rm@serve.com
Web archival by iig@www.utexas.edu