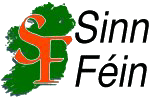 26 June 1996
---
Sinn Fein launch Lesbian, Gay and Bisexual policy document
Speaking at a Sinn Fein press conference to launch ``Moving On - a policy for Lesbian, Gay and Bisexual Equality'' Sinn Fein General Secretary Lucilita Bhreatnach said:
``Today we're launching something new: a policy statement from a political party on lesbian, gay and bisexual issues which takes as its starting point the demands of lesbian, gay and bisexual activists both from inside and outside the party.
``In the words of the `Moving On' policy: ``None of the ideas in this document are original. They are the product of decades of effort and ingenuity on the part of lesbian, gay and bisexual activists, whose collective action has made the LGB movement into a powerful force within Irish politics.''
``This week's Dublin Pride and indeed the Pride events throughout the country this month are testimony to that strength. And they show that the decriminalisation of sex between men in 1993 here in the 26 Counties did not mean the end of the road for those seeking equality (as some politicians might have liked), but just the beginning.
``Over a decade ago Sinn Fein became one of the first political parties in Ireland to call for decriminalisation in 26-County law, again because of the efforts of lesbian and gay activists within its ranks. We recognise that we must now meet the challenges of today and confront inequality both within our party and help the struggle to confront it outside our party, throughout society, throughout the country.
``Republicans and Sinn Fein in particular are well used to being asked to accept the status of second-class citizenship in this country. We are only too well aware of the issues of marginalisation, exclusion and discrimination, and the poverty, both financial and in terms of opportunities that comes with those things. We have experienced censorship and we too have experienced people purporting to speak for us, who themselves won't speak to us and won't allow us speak for ourselves. That's why the basis of this party's policy is that our responsibility is to assist the struggle for LGB equality, a struggle which is led by the LGB community itself.
``At our Ard Fheis in March party activists from throughout the country queued up to praise this document and to stress that its real test will be in its implementation. For our part, the Sinn Fein Ard Comhairle has committed itself to ensuring that implementation.
``After the policy was approved at our Ard Fheis I wrote to Minister Mervyn Taylor pointing out the demand for the immediate introduction of the Employment Equality Act and the Equal Status Bill and for the acceptance of amendments to them from lesbian, gay and bisexual representation groups. That was in April. It now appears that the Employment Equality Act might finally be published next week. I hope it will, without further delay, but I am concerned that the Equal Status legislation isn't promised until sometime between October and Christmas. The long fingering of this Bill is becoming increasingly a cause for concern-I hope all the parties of government are committed to getting this basic legislation through.
``In this policy position before you today, I am particularly proud to see the start of our internal education programme on LGB issues- a first for an Irish political party. I would encourage all lesbian, gay and bisexual activists to contact their local Sinn Fein organisation or political activists over issues they are campaigning on and hope that lesbians, gays, bisexuals and people of different sexualities will see Sinn Fein as an ally in the struggle for equality and civil rights for all the people of this country.
``Can I end by quoting from Moving On a piece which I think sums up our position: ``Sinn Fein has a responsibility to ensure that within its own ranks and the wider community it represents, that second class citizenship is not acceptable, and that the rights of lesbian, gay and bisexual people are not negotiable.''
---
Sinn Fein Press Office, 44 Parnell Square, Dublin 1
Tel: +353-1-8726100 and +353-1-8726839   ·   Fax +353-1-8733074
E-mail: sinnfein@irlnet.com   ·   Website: http://www.sinnfein.org

Released in the US by:

Friends of Sinn Fein, 510 C Street, NE, Washington DC 20002
Tel: +1-202-547-8883   ·   Fax +1-202-547-7889
E-mail: fosf@nicom.com   ·   Website: http://www.sinnfein.org
---
Sinn Fein   ·   Sinn Fein Documents
---
Web publication by rm@serve.com
Web archival by iig@www.utexas.edu