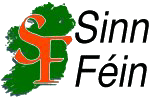 29 June 1996
---
ADAMS COMMENTS ON ATTACK ON BRITISH ARMY BASE
Sinn Fein President, Gerry Adams said on Saturday that a mortar bomb attack on a British army base in Germany must not be allowed to paralyse the search for peace in Ireland.
Mr. Adams said:
``Whoever was responsible for the attack on the British Army base in Germany, it is clear that it presents all of us with a challenge to produce an alternative to conflict which can bring it to a permanent end.
``Inclusive dialogue is the only means by which this can be achieved.
``Last night's incident, like other recent events, should not be allowed to become a cause of paralysis. Rather it should act as a spur on political leaders to work even harder to restore the peace process.''
---
Sinn Fein Press Office, 44 Parnell Square, Dublin 1
Tel: +353-1-8726100 and +353-1-8726839   ·   Fax +353-1-8733074
E-mail: sinnfein@irlnet.com   ·   Website: http://www.sinnfein.org

Released in the US by:

Friends of Sinn Fein, 510 C Street, NE, Washington DC 20002
Tel: +1-202-547-8883   ·   Fax +1-202-547-7889
E-mail: fosf@nicom.com   ·   Website: http://www.sinnfein.org
---
Sinn Fein   ·   Sinn Fein Documents
---
Web publication by rm@serve.com
Web archival by iig@www.utexas.edu