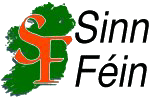 1 July 1996
---
Adams says gap must be ``narrowed''
Sinn Fein President Gerry Adams, responding to questions from the media this morning said:
``British government policy is critical to any restoration of the peace process. For the eighteen months of the IRA cessation there were no armed actions and no negotiations. This period of bad faith has created a gap of distrust which the British must move to close.
``From my contact with the IRA it appears to me that the question Mr. Major must answer is would he treat another IRA cessation the same as the last one?
``The IRA has said that it is prepared to enhance a democratic peace process. The British government has said it wants a democratic peace process. Surely this gap can be narrowed. It is up to Mr. Major.''
---
Sinn Fein Press Office, 44 Parnell Square, Dublin 1
Tel: +353-1-8726100 and +353-1-8726839   ·   Fax +353-1-8733074
E-mail: sinnfein@irlnet.com   ·   Website: http://www.sinnfein.org

Released in the US by:

Friends of Sinn Fein, 510 C Street, NE, Washington DC 20002
Tel: +1-202-547-8883   ·   Fax +1-202-547-7889
E-mail: fosf@nicom.com   ·   Website: http://www.sinnfein.org
---
Sinn Fein   ·   Sinn Fein Documents
---
Web publication by rm@serve.com
Web archival by iig@www.utexas.edu