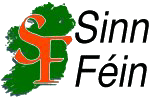 18 July 1996
---
Boycott RUC call
Derry Sinn Fein Councillor, Cathal Crumley today called for those responsible for contacts with the RUC at the level of schools, youth centres and community projects to end this contact.
Councillor Crumley said:
``The events of the last ten days, in particular the RUC's behaviour on Garvaghy Road and the Lower Ormeau, prove conclusively that the RUC are a sectarian organsiation and cannot be reformed. They have to be disbanded.
``Until such time as this comes about all nationalists should end formal contact with them. Since the IRA's cessation the RUC have been on a charm offensive, trying to ingratiate themselves with sections of the nationalist community. These moves have come in various guises such as drugs awareness seminars, road safety projects and outdoor pursuit activities.
``I now call on all those organisations in nationalist areas with any contact with the RUC to end that contact and boycott the RUC.''
---
Sinn Fein Press Office, 44 Parnell Square, Dublin 1
Tel: +353-1-8726100 and +353-1-8726839   ·   Fax +353-1-8733074
E-mail: sinnfein@irlnet.com   ·   Website: http://www.sinnfein.org

Released in the US by:

Friends of Sinn Fein, 510 C Street, NE, Washington DC 20002
Tel: +1-202-547-8883   ·   Fax +1-202-547-7889
E-mail: fosf@nicom.com   ·   Website: http://www.sinnfein.org
---
Sinn Fein   ·   Sinn Fein Documents
---
Web publication by rm@serve.com
Web archival by iig@www.utexas.edu