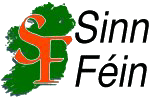 24 July 1996
---
Martin McGuiness speaks to international media
Sinn Fein Ard Chomhairle member Martin McGuinness is this morning in London where he is meeting the international media, as well as carrying out a number of private engagements.
The following is the text of Mr McGuinness's remarks at this mornings press conference.
A Chairde,
Thank you for all coming here today. My purpose in coming here is to brief you on recent events, their impact and the current dire state of the political situation.
Despite the years of intensive efforts to build an effective peace process we are now facing a deep crisis. This results from British bad faith, their avoidance of substantive negotiations and the erection of new pre-conditions during the one and a half years of an IRA cessation, led directly to the collapse of the peace process earlier this year.
The events of recent weeks; the British government's surrender to the use of violence and the threat of greater violence by unionists; the obviously partisan behaviour of the RUC and the growing evidence of a mutiny in that force; the campaign of murder and mass intimidation against Catholics; and the absence of any evidence or sense of equality and parity of esteem for all citizens, have collectively killed the peace process. Its ruins stand as a tragic testimony to the failure of the British government and unionist political leaders to see beyond the narrow sectarian parameters of their own self-interest.
The nature of the six county state was rendered undeniable by the events at Drumcree. Born in violence 75 years ago it has been sustained ever since then under the threat of force. British governments and unionists leaders have always known this and have refused to act on it. Drumcree and subsequent events exposed the British government as duplicitous and the unionists as bigots. The nationalist population as ever are a people under siege.
The talks process at Stormont lacks any credibility and exists on a life-support of media curiosity only. Long ago the public gave up any hope that it might produce peace.
Of course, the road to peace was always going to be difficult, risky and dangerous. At its heart, conflict resolution wherever it is tried is about resolving deep-rooted controversial issues. Conflict resolution is about replacing confrontation with dialogue; inequality with equality; injustice with justice, replacing violence with peace.
Success requires a good faith engagement, with no preconditions and an inclusive process of honest negotiations tackling all of the substantive issues.
All of this is absent from our situation at present.
Despite this we must not allow these difficulties to paralyse us.
What is now urgently needed is action; a new initiative for peace, led by both governments, which applies itself to the task of building a real peace process with the core objective of reaching a negotiated settlement which will deliver lasting peace in Ireland.
We need that new initiative for peace now. To succeed, where recent efforts have failed, this new initiative must be firmly based on the lessons of the international experience. It must be an inclusive process based on equality, with no preconditions, with all relevant issues on the agenda, and with nothing agreed until everything is agreed. There must be no vetos and no attempt to predetermine or exclude any outcome. Clearly it also requires a time-frame to inject the necessary dynamic for progress.
Clearly, what has gone before for generations has failed all of us. The only reliable guarantee for our future rests in having the political will to pursue an agenda for change through democratic negotiations.
This requires comprehensive negotiations which bring about substantive and significant change in the following areas:
Constitutional and political
Demilitarisation
Democratic rights
Bringing peace to Ireland will not succeed without the British Government. The ball is well and truly with John Major if a proper peace process is to be built and is to work. John Major also knows a peace process requires Sinn Fein's participation.
The British government should be talking to Sinn Fein. Sinn Fein has an electoral mandate and has a right to be involved in negotiations.
At this critical point in Anglo-Irish affairs it is time John Major put aside his own party political interests and did the right thing by the Irish people. He can do so by unambiguously demonstrating his preparedness to take real risks for peace. The first necessary step is to engage in a good faith process of substantive and inclusive negotiations.
---
Sinn Fein Press Office, 44 Parnell Square, Dublin 1
Tel: +353-1-8726100 and +353-1-8726839   ·   Fax +353-1-8733074
E-mail: sinnfein@irlnet.com   ·   Website: http://www.sinnfein.org

Released in the US by:

Friends of Sinn Fein, 510 C Street, NE, Washington DC 20002
Tel: +1-202-547-8883   ·   Fax +1-202-547-7889
E-mail: fosf@nicom.com   ·   Website: http://www.sinnfein.org
---
Sinn Fein   ·   Sinn Fein Documents
---
Web publication by rm@serve.com
Web archival by iig@www.utexas.edu