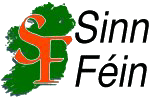 1 August 1996
---
Churches' links with Orange Order challenged
Statement from Belfast Sinn Fein Councillor, Tom Hartley regarding the links between the Orange Order and the Protestant Churches.
Cllr. Hartley said:
``Over a week ago I posed a number of questions to the leaders of the Protestant Churches in Ireland in relation to their members and clergymen being active members of the Orange Order or the other loyal institutions.
``Unfortunately the response to date from the leaders is inadequate and fails far short of what the situation requires. The leadership of the Protestant Churches should answer a simple question: ``Why are Protestant Churches structurally linked to an anti-Catholic political organisation, the Orange Order, through participation by church members both lay and clerical in marches and the use of church property?''
``Since I posed that question it has now emerged that the clergyman in charge of Drumcree Church Rev. John Pickering, was awarded a ``Spirit of Drumcree'' medal arising out of last years events. This will add to the concern in nationalist circles that certain clergymen are insensitive to the feelings of nationalists who are victims of Orange intimidation.
``Last week Archbishop Eames underlined the role of reconciliation and understanding in the building of confidence and trust between the two communities. Is he now willing to take the initiative and begin that process by following the advice of the leader in the Church of Ireland Gazette which was to rethink the link between the Orange Order and the Church of Ireland?''
---
Sinn Fein Press Office, 44 Parnell Square, Dublin 1
Tel: +353-1-8726100 and +353-1-8726839   ·   Fax +353-1-8733074
E-mail: sinnfein@irlnet.com   ·   Website: http://www.sinnfein.org

Released in the US by:

Friends of Sinn Fein, 510 C Street, NE, Washington DC 20002
Tel: +1-202-547-8883   ·   Fax +1-202-547-7889
E-mail: fosf@nicom.com   ·   Website: http://www.sinnfein.org
---
Sinn Fein   ·   Sinn Fein Documents
---
Web publication by rm@serve.com
Web archival by iig@www.utexas.edu