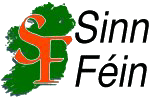 2 August 1996
---
Scrap RUC Authority - Adams
Sinn Fein President Gerry Adams has called for ``the scrapping of the RUC Police Authority''.
Mr. Adams said:
``The RUC Authority is incapable of providing for a proper policing service in the six counties. The recent debacle surrounding the actions of Unionist Councillor Trevor Wilson from Cookstown and the failure of the Authority to deal with this in an open and frank fashion, is just the most recent example of the bias and ineffectiveness of this body.
``The RUC is not a police service and must be disbanded.
``The RUC Authority is a unionist dominated body which demonstrated in recent weeks an absolute inability to confront the challenge of a new policing service. It has no credibility and should be scrapped.''
---
Sinn Fein Press Office, 44 Parnell Square, Dublin 1
Tel: +353-1-8726100 and +353-1-8726839   ·   Fax +353-1-8733074
E-mail: sinnfein@irlnet.com   ·   Website: http://www.sinnfein.org

Released in the US by:

Friends of Sinn Fein, 510 C Street, NE, Washington DC 20002
Tel: +1-202-547-8883   ·   Fax +1-202-547-7889
E-mail: fosf@nicom.com   ·   Website: http://www.sinnfein.org
---
Sinn Fein   ·   Sinn Fein Documents
---
Web publication by rm@serve.com
Web archival by iig@www.utexas.edu