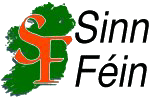 8 August 1996
---
McGuinness meets Bogside Group
Sinn Fein Ard Chomhairle member Martin McGuinness this afternoon met the Bogside residents' Group for a detailed discussion on the current situation.
Mr. McGuinness said:
``I have been impressed by the positive efforts of the Bogside Residents' Group to reach an accommodation with the Apprentice Boys organisation.
``I pledge my continuing support for a resolution which harmonises the rights of small, isolated catholic communities and the rights of the Apprentice Boys to march.
``At this sensitive and difficult time I would appeal to nationalists to remain calm and disciplined.''
---
Sinn Fein Press Office, 44 Parnell Square, Dublin 1
Tel: +353-1-8726100 and +353-1-8726839   ·   Fax +353-1-8733074
E-mail: sinnfein@irlnet.com   ·   Website: http://www.sinnfein.org

Released in the US by:

Friends of Sinn Fein, 510 C Street, NE, Washington DC 20002
Tel: +1-202-547-8883   ·   Fax +1-202-547-7889
E-mail: eirefree@aol.com   ·   Website: http://www.sinnfein.org
---
Sinn Fein   ·   Sinn Fein Documents
---
Web publication by rm@serve.com
Web archival by iig@www.utexas.edu