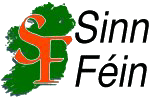 23 August 1996
---
New Peace Process Needed
In comments today on peace efforts, Martin McGuinness, member of Sinn Fein's Ard Chomhairle, said:
``The current state of the peace process holds out little prospect of achieving a real peace settlement. Confidence needs to be restored in the viability of developing a political formula for real change.
``There is an urgent need for both governments and all the parties to review the peace process and to establish a new coherent and determined approach.
``Clearly, in the wake of the events around Drumcree, conceding a veto to Unionists over the progress, conduct or outcome of the talks process means that there will be no movement towards democracy, equality or political change.
``A new peace process must be built and it must have a basis strong enough to withstand Unionist resistance to change.
``Clearly, this requires talks to which all parties are invited. Both governments must give assurances that there will be real negotiation within an agreed timeframe without preconditions or vetos of any kind.
``If the unionists refuse to engage in real talks the two governments should proceed with those parties who are committed to democratic negotiations leading to a peace settlement. Both governments have already agreed to such a scenario in the Framework Document. The peace process urgently needs an initiative and a dynamic to move us all away from conflict and towards a lasting peace.''
---
Sinn Fein Press Office, 44 Parnell Square, Dublin 1
Tel: +353-1-8726100 and +353-1-8726839   ·   Fax +353-1-8733074
E-mail: sinnfein@irlnet.com   ·   Website: http://www.sinnfein.org

Released in the US by:

Friends of Sinn Fein, 510 C Street, NE, Washington DC 20002
Tel: +1-202-547-8883   ·   Fax +1-202-547-7889
E-mail: eirefree@aol.com   ·   Website: http://www.sinnfein.org
---
Sinn Fein   ·   Sinn Fein Documents
---
Web publication by rm@serve.com
Web archival by iig@www.utexas.edu