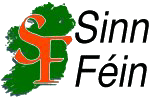 29 May 1996
---
Gerry Adams Addressing Political Leaders
and the Irish Diaspora
in the United States and Canada
Good evening.
I am addressing you here from the television studio in Belfast, and I would like to say in the beginning that I am very pleased, even in this rather distant way, to be talking to our friends across the USA and in Canada.
I'd like to extend greetings to our many friends, to the activist community, to those who been with the struggle in Ireland for a very long time now, for those in the wider Irish diaspora, to the people who have organized this broadcast, to the Irish political prisoners in the USA, and to the families of the deportees; and, if I may, I'm sure you will all excuse me if I single out for a special greeting my very good friends, Paul and Pat O'Dwyer.
Friends of Sinn Fein, as you know, is an organization in the USA which seeks to engage in a diplomatic mission to bring news, to bring information, and to inform people there of the situation back here in Ireland. And in the course of this brief, 30-minute interview, I would like to update you all on the situation here.
It's over two years since I first visited the U.S., and when I think back at the world of expectation when I got a 48-hour visain New York, and later in the months after that, the great hope and expectation that greeted the IRA's cessation of August 1994, and now, about two years later, how the whole process has been limited and diluted and slowed down. And it's this which we have to address.
There is a clear need, and I think that our friends, and particularly the Irish diaspora and our friends on Capitol Hill, have got to address the current situation and seek to regain and to revitalize and to kick-start a new momentum and another dynamic which will bring us, all of us toward a peace settlement Sinn Fein peace strategy in many ways has been the catalyst for the Irish peace process. When I started the engagement with Mr. Hume of the SDLP and then later we both engaged with Albert Reynolds, the Irish Prime Minister of that time, and then we were in many ways harnessing the democratic dynamic of Irish nationalism. As we look at what has happened since then as we seek to regroup and rebuild and restoring the peace process, it's in the lessons of that period that we will find our way forward.
In `94, I think even John Major conceded we had the best opportunity for peace. But yet I think all of us realize that the cessations, while a necessary part of building peace, are not peace in themselves. And, indeed, President John F. Kennedy pointed out the mere absence of war is not peace. A moment of pause is not a promise of peace.
And despite all our best endeavors and despite, if I can say, the best endeavors of Sinn Fein, a party which engaged positively in every development and every phase of the process -- we engaged, for example, in the Forum for Peace and Reconciliation in Dublin. We made a very constructive and positive contribution to those deliberations. We dealt with a range of parties, both in Britain itself and including the British Government; here, with parties in the North; and also with the Irish Government and all of the parties in Leinster House; and, of course, with the Administration in the White House.
And Mr. Major said that the elections would provide a direct route, a clear and automatic, into all party talks on June 10. And I'm quite confident that Sinn Fein will secure tens of thousands of votes tomorrow, and I'm quite confident in your news broadcasts that you will hear news of Sinn Fein renewing its mandate and of our party leadership being given a negotiating mandate also. Now, having preached democracy at the Irish people for a very long time and having, in a quite stilted way, pontificated to us about the primacy of the ballot box, surely now, when all of the parties have cleared this obstacle to the all-party talks, surely the British Government, surely the Irish Government will recognize the rights of those to vote for Sinn Fein.
What I want to do is to go to the all-party talks on June 10 armed with that mandate. I want to sit down with representatives of the other parties here, I want both governments to play leadership roles, and I want all of us to stay at the negotiating table until we get agreement, and I want to see every single issue resolved as part of that process. And I want us to build confidence in each other and to create a climate for peace, which is a very fragile and delicate flower, and nourish and be nurtured and a new beginning for all of the people of this island.
I want to see all of the issues resolved to the satisfaction of all of the parties. So irrespective of all of this, of how difficult it is and of how dangerous it is, irrespective of it all, I want to assure our friends in the USA and in Canada that Sinn Fein is absolutely committed to restoring the peace process and to achieving a negotiated peace settlement.
I want to give you my pledge and remember every commitment which I have given in the course of this very convoluted and protracted process, every commitment which I have given, I have kept. And it's my pledge to you and to our friends right across the USA and Canada that we will persist with the search for peace until we achieve the prize of peace.
Since the collapse of the peace process last February, I have been almost at times in daily contact with John Hume. I have been in regular contact with the Irish Government and with the White House as we all seek to put the process together.
So I would appeal to you all to keep up your efforts. We are not going to give up, and you should not give up hope. And that's the crux, the sound bite of my broadcast here this evening. In many ways we are in a very defining moment in our history, and we have to seek to make this critical time not a crossroads or a cul de sac, but a movement forward. We must negotiate a peace settlement and a new Ireland which will give expression and which will reflect the diversity of all sections of our people, of all the different traditions and the different beliefs.
You in the United States and in Canada have a continuing and valuable role to play. We want you to help to build an Ireland which you can be proud of. We want you to continue to help to build peace.
Let me finish by reassuring you of my firm conviction that we will have peace on this small island. I cannot say when it will happen, but I absolutely confident that it will happen.
I want to finish on that note. I want to thank those who helped to organize tonight's broadcast. There are many challenges facing us all. The job of making peace is a risky one. We are not going to give up, and I'm sure that you in the USA and Canada won't let us down as we continue to move forward.
Good night.
---
Sinn Fein Press Office, 44 Parnell Square, Dublin 1
Tel: +353-1-8726100 and +353-1-8726839   ·   Fax +353-1-8733074
E-mail: sinnfein@irlnet.com   ·   Website: http://www.sinnfein.org

Released in the US by:

Friends of Sinn Fein, 510 C Street, NE, Washington DC 20002
Tel: +1-202-547-8883   ·   Fax +1-202-547-7889
E-mail: eirefree@aol.com   ·   Website: http://www.sinnfein.org
---
Sinn Fein   ·   Sinn Fein Documents
---
Web publication by rm@serve.com
Web archival by iig@www.utexas.edu