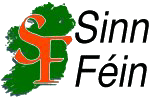 25 June 1996
---
Adams appeals for Smyth
Sinn Fein President Gerry Adams, commenting on the decision by the US Supreme Court to clear the way for the extradition of Jimmy Smyth said:
``The decision by the US Supreme Court not to reconsider a ruling by the Court of Appeals ordering Jimmy Smyth's extradition is a grave disappointment.
``Jimmy Smyth like so many hundreds of others, was convicted on spurious grounds, under unjust laws, in a special court and on a charge which he has consistently denied.
``Since he moved to the US he has lived an exemplary life, making a solid contribution to his local community.
``I would appeal to President Clinton not to extradite Jimmy Smyth or the others in a similar situation.''
---
Sinn Fein Press Office, 44 Parnell Square, Dublin 1
Tel: +353-1-8726100 and +353-1-8726839   ·   Fax +353-1-8733074
E-mail: sinnfein@irlnet.com   ·   Website: http://www.sinnfein.org

Released in the US by:

Friends of Sinn Fein, 510 C Street, NE, Washington DC 20002
Tel: +1-202-547-8883   ·   Fax +1-202-547-7889
E-mail: fosf@nicom.com   ·   Website: http://www.sinnfein.org
---
Sinn Fein   ·   Sinn Fein Documents
---
Web publication by rm@serve.com
Web archival by iig@www.utexas.edu